Arrangements for Groups
If you wish to attend an opera or ballet with your customers or employees, to attend a performance with your associates or circle of friends, we have special offers for groups.

Group rates
Groups of 10 to 29 persons receive a reduction of 10% for performances in price categories C to E in ticket categories 1 to 5; groups of 30 to 80 persons receive a 20% rebate.
Groups of at least 25 persons also receive one free ticket for accompanying persons.
Contact and booking
Andrea Brennecke
Sybille Heinken
Tel. (040) 35 68 222
Fax (040) 35 68 610
E-Mail: groups@staatsoper-hamburg.de
Premium arrangements for groups
Special festivities require a special framework – let yourself and your guests be guided through the evening by our staff. Apart from your programme book, which you may study in advance at home upon request, high-quality catering and an exclusive selection of drinks await you. We would be delighted to complement your evening with an introduction to the work. A refreshing glass of sparkling wine and Hanseatic finger food welcome you, and a glass of wine during the intermission has become a ritual and enjoyable accompaniment for an evening at the opera for many of our guests. Our opera restaurant "Godi l'arte" serves modern interpretations of classic delights and has prepared an offer for you.

You and your guests will receive exclusive access to the Opera's foyer area 75 minutes before the performance, so that you can check your coats with plenty of time and then access the "Founders' Lounge" on the Fourth Tier.
Follow the high-class performances of the Hamburg State Opera from premium seats or in your own box:
Premium Parquet Seats
Right up close, and in the lap of luxury! Follow the performance from our premium seats in Rows 1 to 7 of the stalls. Get in the mood with snacks and drinks in the stylish atmosphere of the "Stifter-Lounge" before the performance. During the interval, you will find an area in the Stalls Foyer reserved exclusively for you, with a selection of drinks ready to serve, and naturally your programme book and coat check fee are included.

This arrangement may be booked for groups of 15 persons or more. Prices per person:
Price Category C: SG 1: € 116/SG 2: € 108
Price Category D: SG 1: € 125/SG 2: € 116
Price Category E: SG 1: € 136/SG 2: € 125
Price Category F: SG1: € 157/SG 2: € 143
Price Category G: SG1: € 167/SG 2: € 153
A Box Seat in Opera Heaven
Our popular arrangement: enjoy the performance with your guests in your own box! The price includes snacks and drinks before the performance in the "Founders' Lounge", interval drinks in an exclusive area of the stalls foyer and programme books.

Package 1
Your exclusive seats will be in Box 5 in the First Tier (left)
Package price for up to 19 persons:
Price Category C: € 1,850
Price Category D: € 1,950
Price Category E: € 2,100
Price Category F: € 2,250
Price Category G € 2,400
Package 2
Your exclusive seats will be in Box 2 in the Second Tier (right)
Package price for up to 15 persons:
Price Category C: € 1,300
Price Category D: € 1,400
Price Category E: € 1,500
Price Category F: € 1,600
Price Category G: € 1,700
If your group exceeds the seating capacity of the box, we offer additional seats in the immediate vicinity upon request.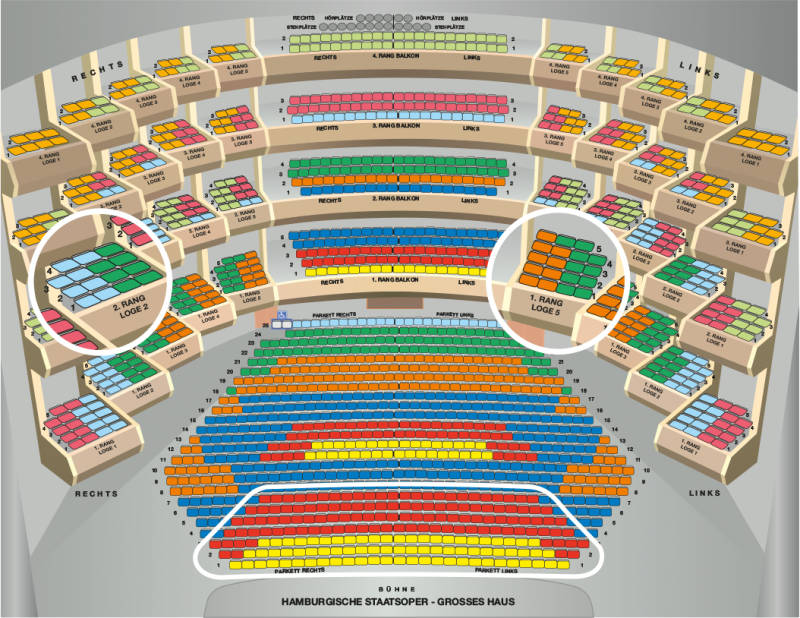 Exclusive Introductory Talks
Would you like more information about the work, the production and the artists? Exclusive introductory talks by members of our dramaturgical staff can be offered as part of these arrangements.
Contact and booking
Andrea Brennecke
Sybille Heinken
Tel. (040) 35 68 222
Fax (040) 35 68 610
E-Mail: groups@staatsoper-hamburg.de